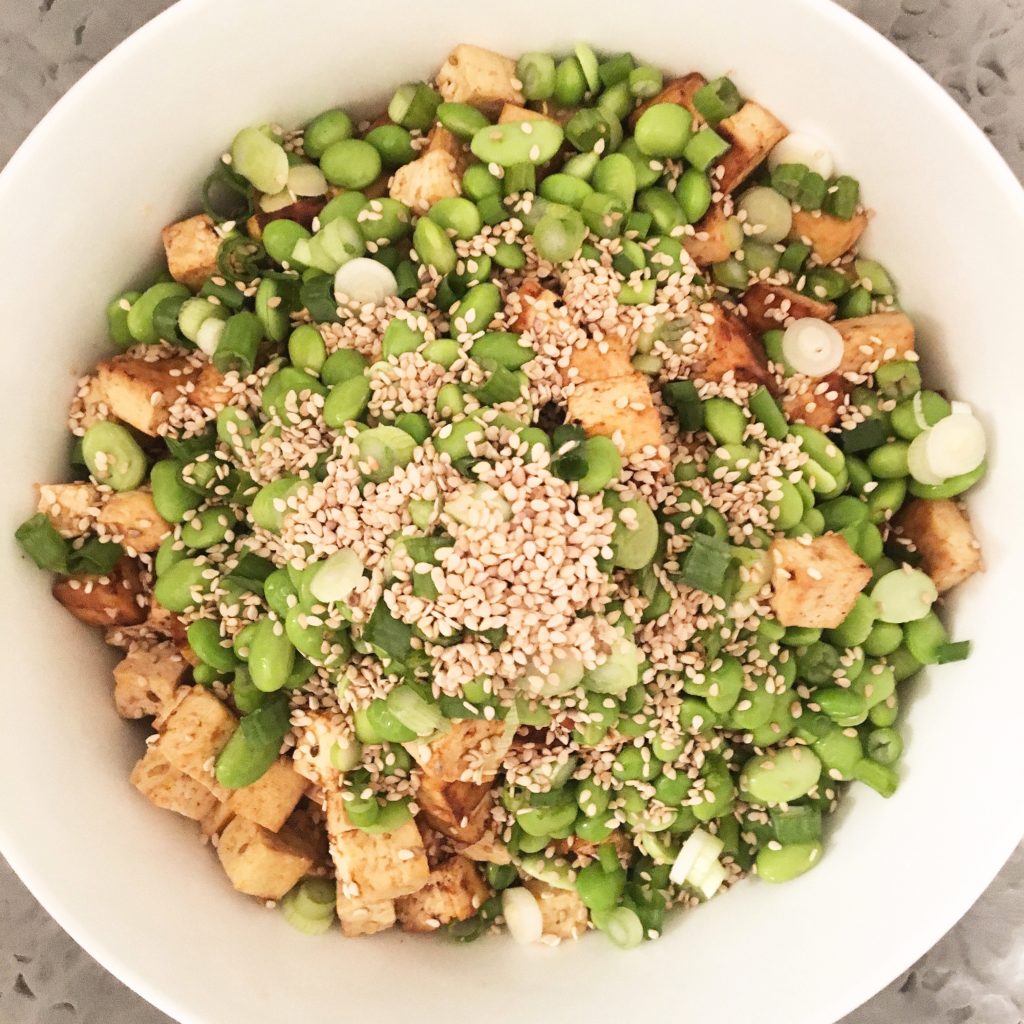 The Soy Debate: Soy Salad
This is my life: I'm out to dinner with girlfriends on a Thursday night- glass of pinot in one hand, menu in the other while dreaming of the seasonal apple cobbler that is back at Hillstone.  My friend turns to me: "So if I eat tofu I can get cancer, right?".  Me: mumbles something to the effect of "Find Your Balance" and goes back to contemplating what to order.
Working in field that is relevant to everyone means this scenario is pretty standard in my social life.  Friends ask about the effectiveness of the "new" ketogenic weight loss diet (not new- and meant for controlling seizures, not weight loss) or "detox" regimens (we have 4 major organs that naturally eliminate waste, or "detox"- orange juice and cayenne pepper won't help) and which vitamins to purchase to boost metabolism (no idea? that's not even "a thing" despite the salesperson's claims- good chance they never studied nutrition science).  While sometimes I'm pumped for an insightful conversation about nutrition and health claims– other times I just want to drink wine and dream of apple cobbler.  Since I totally dodged my friend's question the first time (sorry sweets), I am writing today to provide clarification on the soy debate once and for all…
Soy contains isoflavones, plant compounds that look similar to estrogen.  Because high levels of estrogen (often from hormone therapy) have been identified as a risk factor for breast cancer, it was thought that "estrogen-like compounds", AKA isoflavones, might increase the risk of breast cancer too.  CURVEBALL- they don't.  While isoflavones LOOK like estrogen- they don't act like them or pose the same cancer risk.  Specifically 3 servings of whole soy foods (tofu, soy beans, soy nuts- not the hydrolyzed form found in supplements) daily has been shown to be safe.  There is also growing evidence that eating whole soy foods may actually lower the risk of hormone dependent cancers (AKA breast and prostate cancer).  This is likely due to swapping out fattier meats for leaner options like tofu and edamame– leading to healthier body weights and thus decreased cancer risk.  Happy ending right?  In short, soy=good.  And so, I share my soy salad- a hopeful act of redemption for dodging my friend's soy question (forgive me?).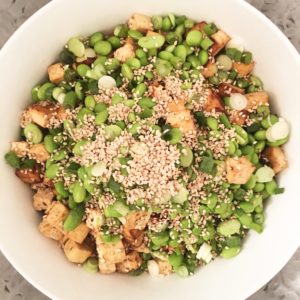 Recipe: The Soy Debate Salad

Prep time: 45 min                          Total Time: ~1 hour                          Servings: 4-6
Ingredients:
1 ½ cups shelled edamame (plan ahead- thaw a bag of frozen shelled edamame in refrigerator overnight)
Marinade for tofu: 2 tablespoons each low sodium soy sauce and Soy Ginger Dressing (I used Trader Joe's brand) and 1-2 teaspoons of sriracha sauce (or other chili sauce)
1 cup dry quinoa
4 cups pre-washed broccoli slaw or other pre-washed mix (ie:
Coleslaw
)
3 tablespoons sesame seeds
2 scallions, sliced thinly
1/4 cup Soy Ginger dressing for salad dressing (lighter option? mix 2 tablespoons of sauce with 2 tablespoons rice wine vinegar)
Preheat the oven to 400 degrees F

Figure out the edamame situation. Either steam frozen edamame according to package directions and then run under cold water to stop cooking or defrost frozen shelled edamame in refrigerator overnight.

Bake the Tofu. Drain and dry the tofu with paper towels, cut into ½ inch cubes and mix with quick marinade ingredients above.  Spread on to lightly greased baking sheet and bake for 30 minutes mixing tofu after first 15 min.

While the tofu is baking, start the quinoa.  Cook quinoa to package directions (~15-20 minutes; 1 cup dry will make about 3 cups)– fluff with fork, sprinkle with salt/pepper if desired

Assemble the salad. Layer up- broccoli slaw, quinoa, tofu, edamame and 1/4 cup Soy Ginger Dressing

Top it off.  Sprinkle with sesame seeds and slice scallions.
**Did you hear? 20% off Initial Virtual Nutrition Counseling for weight loss and more. Use code at checkout: INSTABALANCE.


Warning: Parameter 2 to WC_Catalog_Restrictions_Query::posts_where() expected to be a reference, value given in /home/acroba6/public_html/wp-includes/class-wp-hook.php on line 298