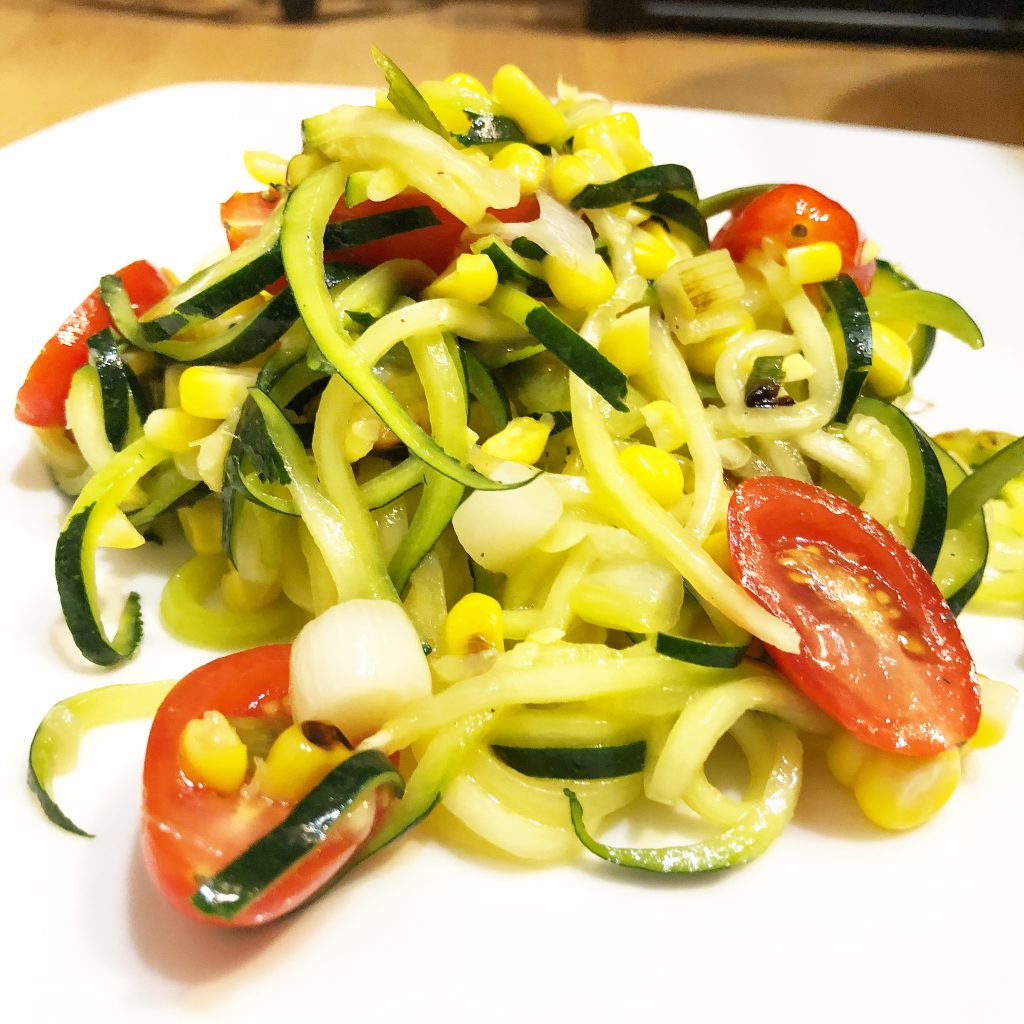 Summer Zoodle Salad: Get. It. Now.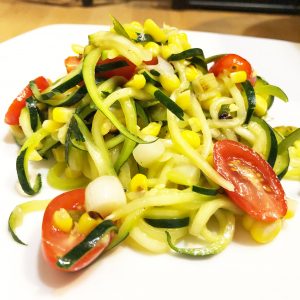 It's the tail end of summer which means the time is now to take advantage of all of summer's bounty.  And this zoodle salad does just that.  The recipe makes enough sides for about 6 people- or 4 lunch portions for your most prized tupperware– just add a booster or two to make it into a meal- i.e.: sunflower seeds, avocado, tuna, chicken or tofu.  Noodles as a vegetable side? Get. It. Now.
Servings: 4-6 servings
Ingredients:
2 large scallion thinly sliced
2 ears of corn
1 cup grape tomatoes, sliced in half
For the dressing:
Juice of half a lemon
1 teaspoon olive oil
1/2 teaspoon mustard
1/2 teaspoon honey
1/4 teaspoon salt
1/2 teaspoon black pepper
Directions:

First, prepare the corn: Add 2 inches of water and 2 ears of corn to a deep skillet or pot; bring water to a boil, cover and cook for ~10 minutes until corn is a bright yellow hue. Run the corn under cold water and slice it off the cob.
While the corn is cooking, add the zucchini, tomatoes and scallions to a large salad bowl. In a small bowl, whisk together all the ingredients for the salad dressing
Put it all together: add the corn and salad dressing to the salad bowl.  Toss to combine.

Warning: Parameter 2 to WC_Catalog_Restrictions_Query::posts_where() expected to be a reference, value given in /home/acroba6/public_html/wp-includes/class-wp-hook.php on line 298