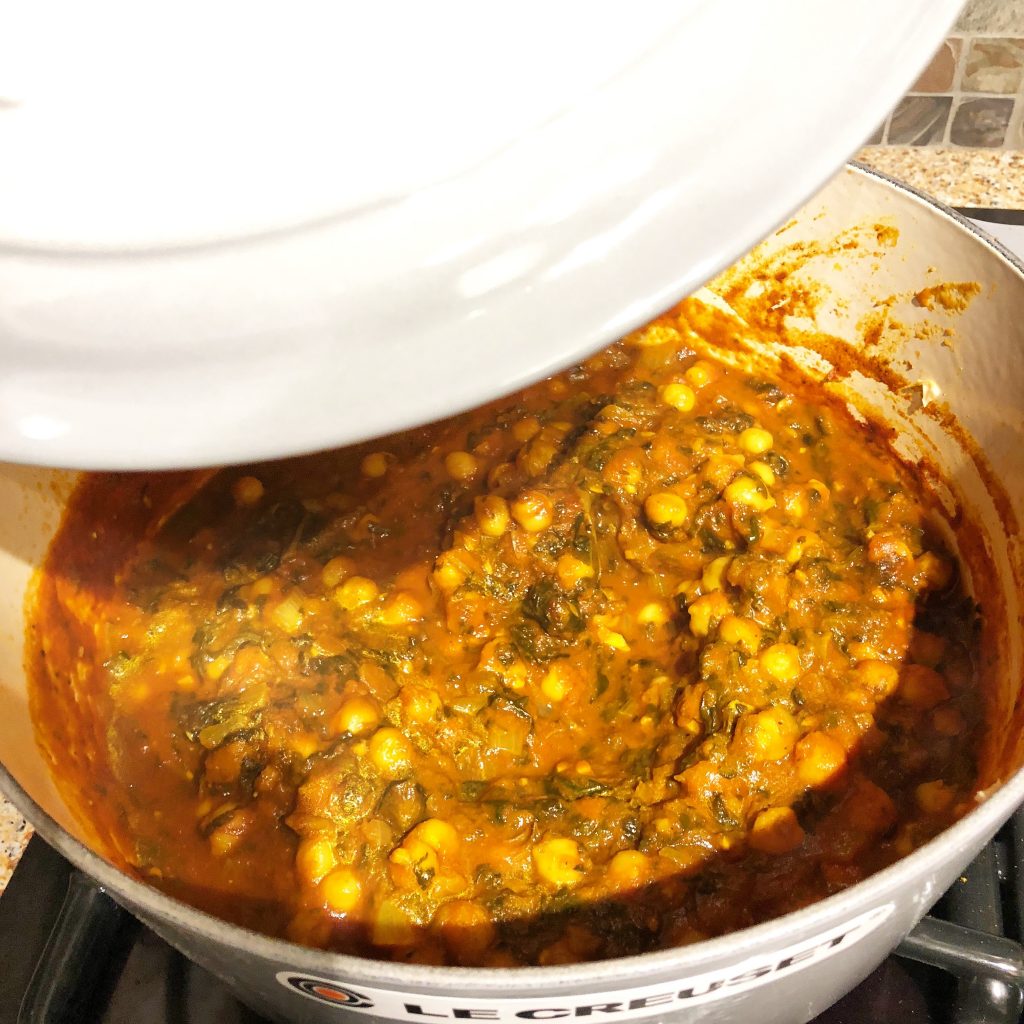 New Husband, New Le Creuset, New Chana Masala Recipe
Current state: I'm basking in all new things- a new husband, new apartment, new Le Creuset and almost as important is a new Chana Masala recipe (maybe don't share that part with my new husband, ah!).  While everything has seemed to change in the last two weeks (did I say #blessings?), I'm advocating for the same rockin' plant based proteins, but in a whole new way.
We can chat about 101 reasons why we should all incorporate plant based proteins in our diets (swapping plant based proteins for animal proteins can promote heart health and weight management, all while boosting nutrient intake- like fiber and potentially disease fighting phytonutrients). While that's all great, here's why you'll actually love this recipe-
1- Building this meal in one pot makes this recipe super easy to cook and makes clean up a breeze
2- Using canned beans, which are already par-cooked, helps cook up this meal in about 45 min
3- You will impress your husband, friends, neighbors, booty calls, old and new, with this seemingly exotic dish
Side note, other plant based proteins you can swap for animal proteins are… beans, nuts, seeds, whole soy foods like edamame and tofu, peas and lentils.
Ready to whip up this recipe? Let's go!
The Acrobat's Chana Masala
Servings: ~6 servings
Ingredients:
1 tablespoon olive oil
1 medium yellow onion, chopped
4 cloves garlic, minced (or use 1/2 teaspoon garlic powder as a time saver)
1 inch ginger, minced (optional)
2 teaspoons prepared curry powder
1/4 teaspoon black pepper
1 tablespoon tomato paste
2 15-oz cans of chickpeas, drained and rinsed (look for low sodium or inherently low sodium organic chickpeas; check the label and aim for less than 150 mg, ideally more than 100)
1 28-oz can low-sodium crushed tomatoes
1/2 cup water
1 10-oz box frozen chopped spinach, thawed in microwave
1/2 teaspoon salt (optional)
Directions:

Heat a large pot (ie: dutch oven) over medium-high heat; add olive oil, onions and garlic; sautee for 5 minutes until onions begin to brown
Sprinkle in curry powder and black pepper; combine with onions and garlic until onions and garlic are coated with spices and curry fragrance intensifies (about 2 minutes)
Add to the pot- chickpeas, tomato paste, crushed tomatoes, water and spinach; mix to combine and bring to a boil then reduce to a simmer for ~20 minutes until sauce thickens
Season with salt, if needed
*Ideas for serving: serve 1 cup Chana Masala over 1/2 cup brown rice or over 1 cup roasted cauliflower!


Warning: Parameter 2 to WC_Catalog_Restrictions_Query::posts_where() expected to be a reference, value given in /home/acroba6/public_html/wp-includes/class-wp-hook.php on line 298