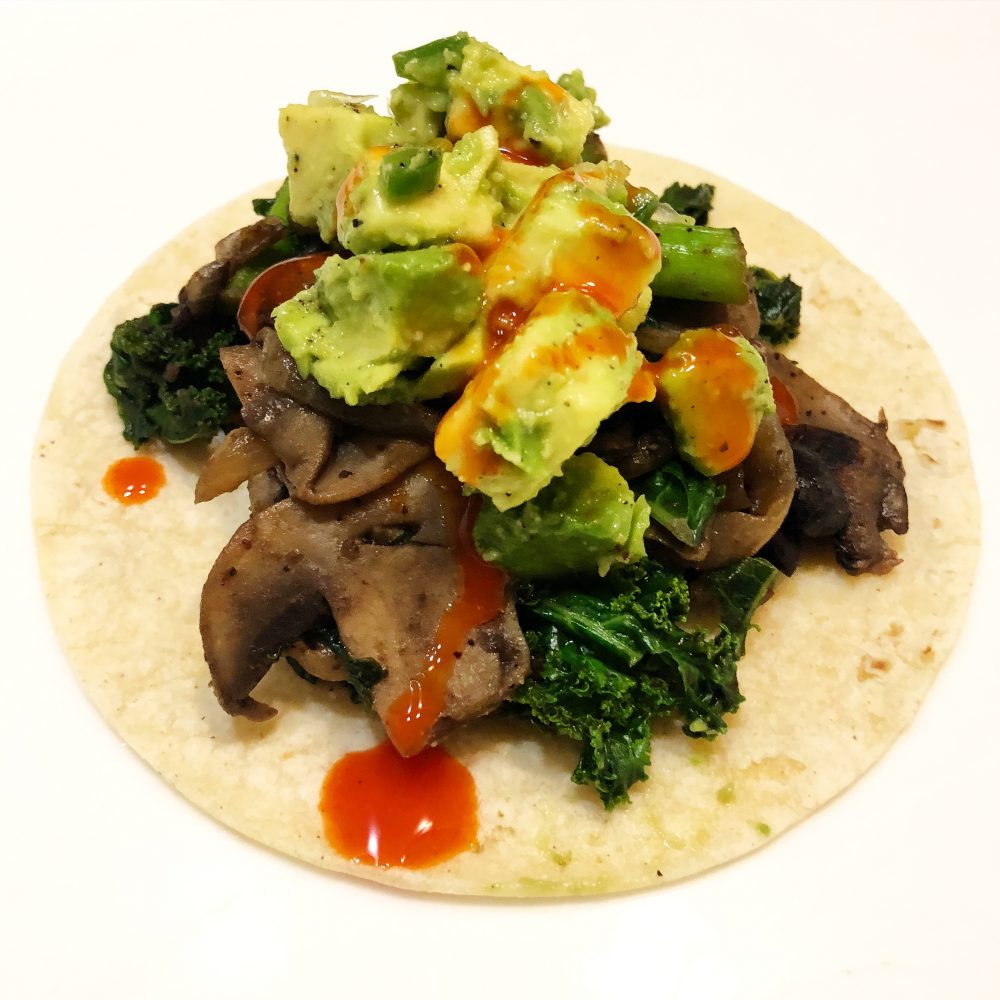 Chili 'Shroom and Mushroom Taco
In previous posts I've advocated for prepared vegetables like mushrooms and kale make your quickest [and holy moly delicious] recipes possible.  This vegan kale and mushroom taco does just that!  It also highlights the main ingredient in taco seasoning– chili powder, while ditching the rest of the salty packet (major sodium savings).  Here's how it goes:
Total time: ~30 minutes
Servings: ~4 servings
Ingredients:
10 oz (~2 ½ cups) pre-washed, sliced mushrooms
2 cups chopped kale leaves
1- 15 oz can low-sodium or organic black beans, drained and rinsed
1 tablespoon plant based oil (e.g.: olive or grapeseed oil)
½ teaspoon onion powder
½ teaspoon garlic powder
1 teaspoon chili powder
¼ teaspoon salt
½ teaspoon pepper
4 small corn tortillas (3-4 inches)
1 avocado, sliced
Directions:
Heat a medium sauce pan over medium high heat with tablespoon of oil.
Add mushrooms and kale leaves sauté on medium heat for ~8 minutes until kale is softened and mushrooms are cooked through.
Add black beans along with salt, pepper, teaspoon chili powder and garlic powder; cook for another 5 minutes.
Meanwhile heat 2 corn tortillas per person in 350 degree oven for 10 minutes until softened.
Fill tortillas with the taco filling, top with avocado and optional toppings as desired.
Fold over and enjoy!
Pro Tip:
Top with cilantro and lime for extra fresh toppings.


Warning: Parameter 2 to WC_Catalog_Restrictions_Query::posts_where() expected to be a reference, value given in /home/acroba6/public_html/wp-includes/class-wp-hook.php on line 298