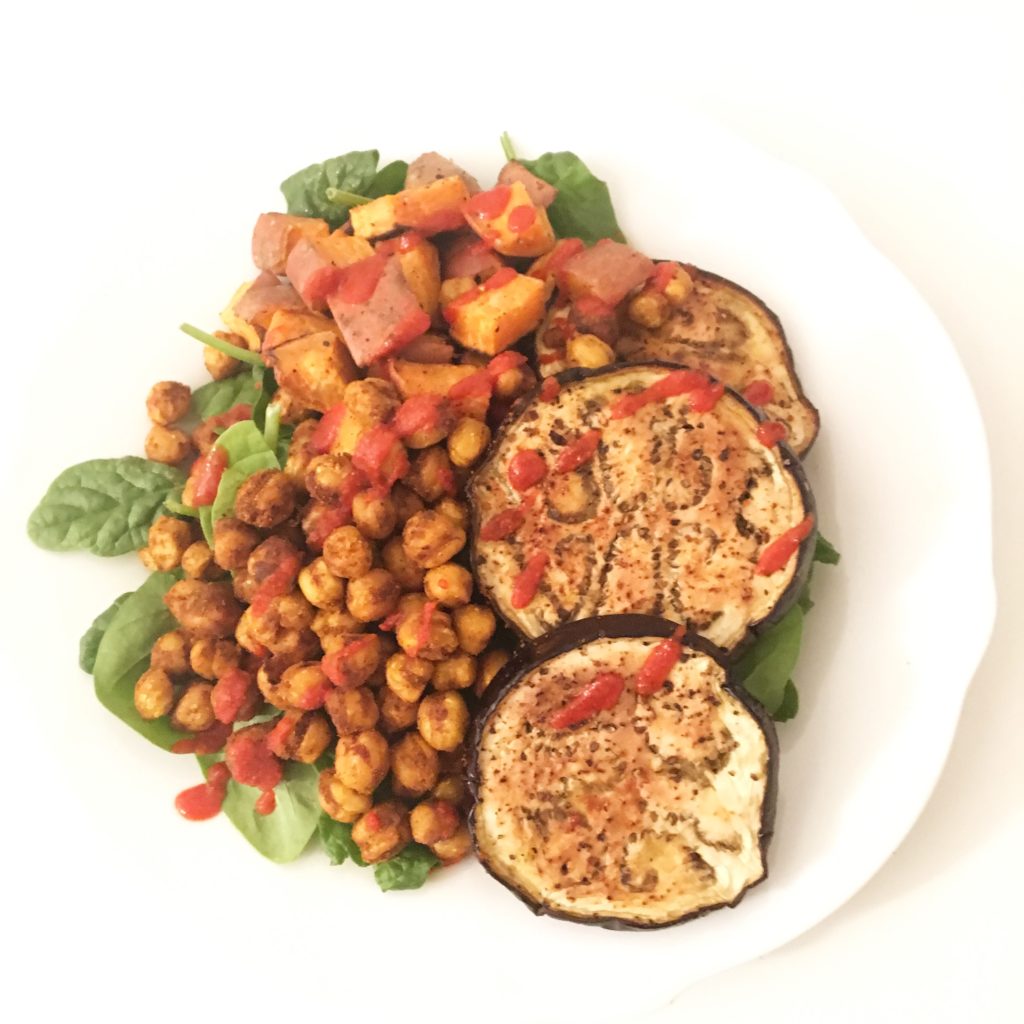 Turmeric on Your Chickpeas Will Do: The Plant Plate Special
In a previous post I mentioned that sprinkling "turmeric on your big mac won't do the trick" when it comes to health, but I'm here today to say that turmeric on your chickpeas will.  Let me explain…  Yes, herbs and spices (ie: cayenne, cumin, oregano) have antioxidant properties that may have protective health benefits and even using a small amount (1/8th of a teaspoon) regularly may be beneficial.  But, these benefits come in conjunction with an overall healthy diet- that is why the chickpeas (and other plant based foods) will do the trick and the big mac won't.
If you haven't heard buzz words like "plant power" or participated in a "Meatless Monday", hear me out– EAT MORE PLANTS.  People who eat plant based diets have healthier weights and bodies and consume more important nutrients like vitamins A, C, E, minerals (like thiamine and calcium) and fiber- all important for our bodies to get sh*t done (literally and figuratively).  This doesn't mean DON'T eat meat (trust me, one my fav foods is my dad's ground beef kebab), but it means do less.  To put it into perspective- think smaller meat portions (about a quarter of your plate) or choosing meat less often.  Also, think bigger veg sides (simple salads, roasted or steamed broccoli, cauliflower, etc…), more grains (like quinoa or barley) and legumes (beans, peas, lentils).
See the virtual steps and the full recipe below!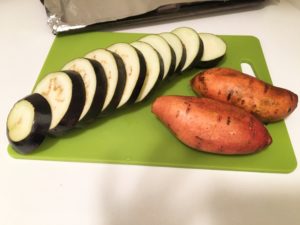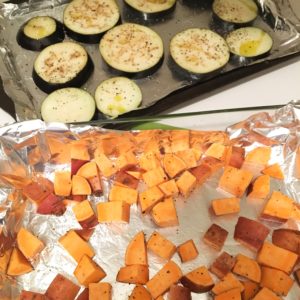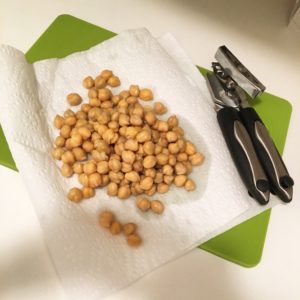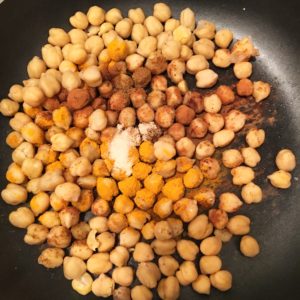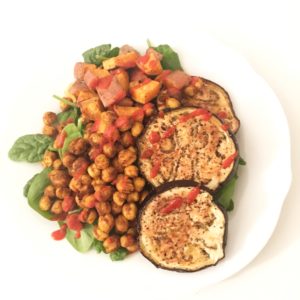 Recipe: The Veg Plate Special
Prep time: 10 min                          Cook time: 45 min                          Servings: 4
2 15-oz cans chickpeas, drained and rinsed
2 large eggplant, cut into 1 inch slices
2 large sweet potato, cut into 1 inch chunks
2 tablespoons + 2 teaspoons olive oil
4 cups washed baby spinach
First, make the eggplant and sweet potato
Preheat the oven to 400 degrees

Line two large baking sheets with tin foil; add eggplant to one baking sheet and sweet potato to the other

Drizzle both eggplant and sweet potato with 1 tablespoon olive oil, and sprinkle with salt and pepper to taste (about 1/4 teaspoon each). Toss with hands and put both trays in the oven

Set timer for 30 minutes, after which both should be cooked through and slightly brown on the outside.
While the eggplant and sweet potatoes are in the oven, make the chickpeas…
Heat a pan over medium high heat

Add the chickpeas and toss for 2-4 minutes until all moisture is absorbed

Add 2 teaspoons olive oil and remaining spices and toss (or stir) every 1-2 minutes for 8-10 minutes until the chickpeas are golden and appear with a crispy exterior
Build each plate by starting with 1 cup of baby spinach, top with a quarter each of the chickpeas, eggplant and sweet potato

Optional: Drizzle with sriracha sauce and enjoy 🙂 

Warning: Parameter 2 to WC_Catalog_Restrictions_Query::posts_where() expected to be a reference, value given in /home/acroba6/public_html/wp-includes/class-wp-hook.php on line 298