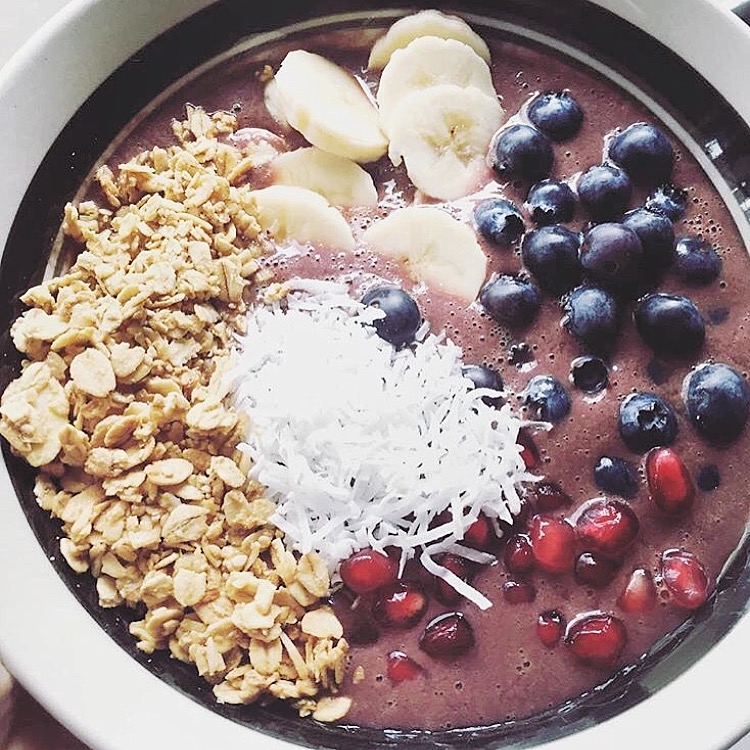 The New Frozen Yogurt is…: Acai Bowl Recipe
After hearing about the terrifying ordeal involving Kim Kardashian last week, I am glad my fav TV reality star is physically okay– and sending lots of good vibes her way.  Reminiscing of her better days, I remembered the time I almost met Kim…
In the summer of 2013 I was in Hawaii at the same time as Kim Kardashian and Kanye West.  Turns out, we all hiked Diamond Head on the same 90 degree day— and I just missed them one hour.  Afterwards, the couple was spotted at the local fro-yo bar and I refuled with a Hawaiian treat– the Acai Bowl.  Perhaps if the media knew the acrobat was in town- I would have been the one making headlines.
Before it's features in wellness blogs and juice shops, I stumbled upon the Acai Bowl organically- pun intended. This bowl (see below) started with frozen acai blended with sweet vanilla almond milk, dates, bananas and vanilla yogurt, topped with bee pollen, granola, banana and strawberry slices and coated with thick "unfiltered honey"- so delicious I asked for a double (didn't I just climb a mountain?).  This treat (can't emphasize the word enough- TREAT) was cooling, hydrating and satisfying post a two hour hike- and made me think perhaps it should be reserved for such incidences?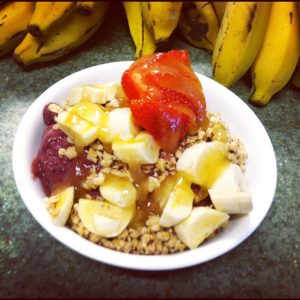 (My first Acaii Bowl in Honolulu, summer of 2013)
Fast forward to 2016… The Acai bowl is not for refueling after intense hikes, but it is the new frozen yogurt- sorry Kim I'm always one step ahead.  It is touted for antioxidants, richness and super foods— and here's a word on these claims… All berries (and fruits and vegetables) offer the benefits of antioxidants.  Richness is synonymous with calorically dense (be wary of this claim).  "Super foods" were invented by the media and bare no definite meaning (yet)- in my book all plant foods are super indeed!  Yes, the standard acai bowl has healthy components (fruit, milk, yogurt- if unsweeetened), but many varieties contain too many ingredients making it overall calorically dense and high in sugar.  FYI- 50g of sugar is too much whether it is coming from a sweenter or whole fruit source.  That's why my version is under 400 calories and uses appropriate portions of fruit, sweeteners and toppings so you can #FindYourBalance.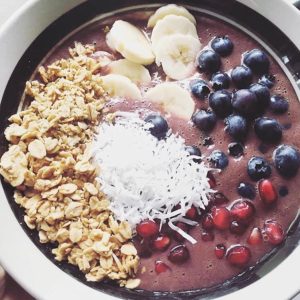 (My acai recipe; photo taken by a dear Skype client)
Recipe: The Acrobat's Acai Bowl (Adapted from The Food Network)
Total time: 10 minutes                  Servings: 1
Ingredients:
One 4-ounce packets unsweetened frozen acai puree (or 1 cup frozen blueberries)
1 medium banana
½ cup unsweetened almond milk
¼ teaspoon cinnamon
¼ cup blueberries
1 tablespoon honey
2 tablespoons granola
2 tablespoons pomegranate seeds
1 tablespoon unsweetened coconut flakes
Directions:

Break the frozen acai up a little by hitting it with a meat mallet. Blend the frozen acai with 1/2 banana, almond milk and the honey in the blender, until thick smoothie consistency; transfer to a cereal bowl.

Slice the remaining 1/2 banana. Arrange the slices and remaining toppings on top of the acai bowl.


Warning: Parameter 2 to WC_Catalog_Restrictions_Query::posts_where() expected to be a reference, value given in /home/acroba6/public_html/wp-includes/class-wp-hook.php on line 298