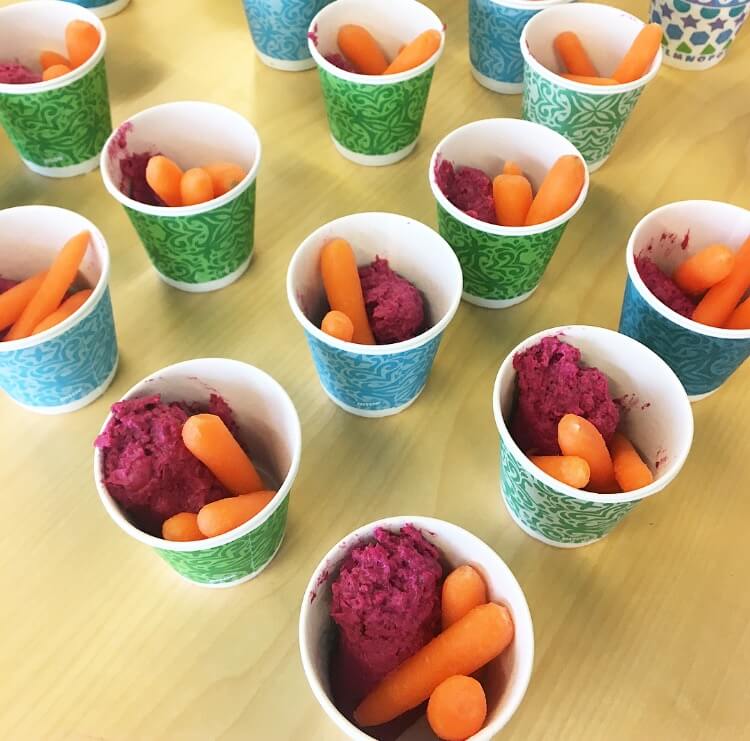 Two Step Acrobatic Snack: Can't Beet this Hummus Recipe
In my experience as a Registered Dietitian, I've learned that people like two things: 1- simplicity and 2- free samples, preferably ones they can eat.  So when teaching a corporate nutrition workshop for a brilliant and energetic group I made sure to do both.  The topic of the event? The "little black dress" of food topics, one that never goes out of style… SNACKS!  During the event, I shared a simple 2-step algorithm to building an acrobatic snack, which balances a fruit or veg with another "whole food". See an overview of how to create an acrobatic snack below or review the simple 2-step algorithm…
Step One: Choose a fruit or vegetable, like… something portable say, an apple, banana or pear, or perhaps something a little more "intensive" to prep- berries, melon, pineapple, or for my vegetable lovers- think easy prep- grape tomatoes, baby carrots, jicama sticks, sugar snap peas or thin skinned Persian cucumbers.
Step Two: Pair that fruit or veg with a "whole food", like… something that has a short list of ingredients and is minimally processed- dry roasted nuts, nut butter, string cheese, lightly or un-sweetened yogurt, hummus, guacamole, popcorn (ie: Deep River or Skinny Pop)
The outcome? a nutrient dense and calorically balanced snack, like… an apple with peanut butter, berries and yogurt, pear and string cheese, sugar snap peas an hummus, baby carrots an hummus.. For more ideas… Again… Check out the 2-step algorithm.
*Simple? yes… Do most people do it? Probably not.. But perhaps breaking it down offers support for participants to just do the damn thang 🙂

After discussing tips, the two-step acrobatic snack and sharing some laughs along the way (specifically while analyzing food labels- likeee "cholesterol free" nuts- no one is impressed that your nuts are cholesterol free– cholesterol is in animal products, not plants, duhh)… I did a food demonstration of my beet hummus, with samples of course.  Pictures and recipe below!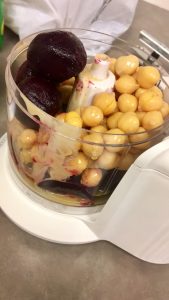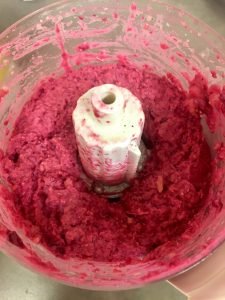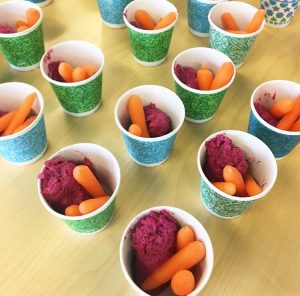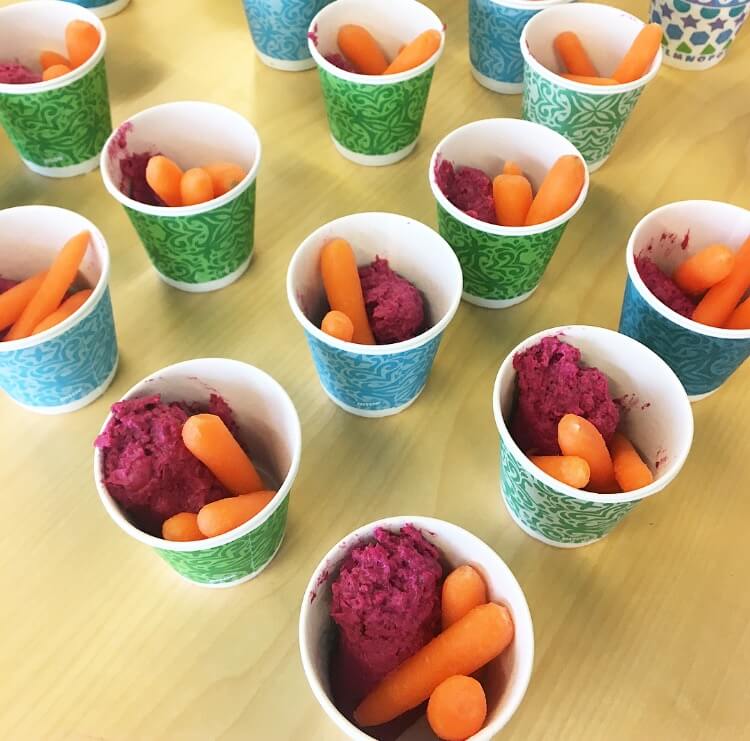 Beet Hummus Recipe:
Prep Time: 5 minutes                 Total Time: 10 minutes                 Servings: 8-10
Ingredients
1 ½ cups cooked chickpeas [or 1 (15- oz) can low sodium chickpeas drained and rinsed]
½ cup peeled and chopped roasted beets* (or use Love Beets)
2 tablespoons tahini (sesame seed paste)
2 tablespoons extra-virgin olive oil
Juice of half a lemon
½ teaspoon salt
1 teaspoon black pepper
Optional: ½ teaspoon garlic powder
1 cup of baby carrots for each snack serving
Directions
Place first 7-8 ingredients into food processor and blend to desired consistency (chunky is GOOD!).
For serving: serve two tablespoons of the Beet Hummus with 1 cup baby carrots.
*How to Roast Beets:
Preheat oven to 400°F.
Wrap beets in foil. Bake for 45 minutes or until tender when pierced with a knife. Allow time to cool.
Use a paper towel to rub skins off beets.
Chop into 1/2 inch chunks.
**Did you hear? 20% off Initial Virtual Nutrition Counseling for weight loss and more. Use code at checkout: INSTABALANCE.