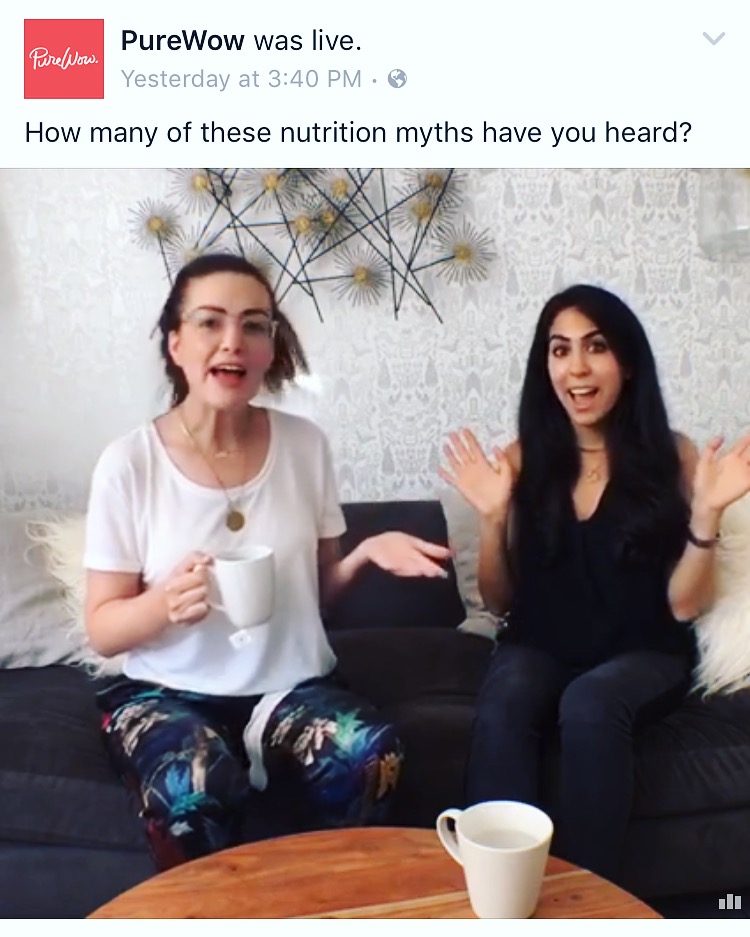 Live with PureWow: Busting Nutrition Myths
This is called barter: PureWow keeps you in the know for all things fashion, food and lifestyle… You help them bust nutrition myths.   A few weeks ago their Senior Editor, Dara Katz, reached out to me to see if I would do a Facebook LIVE segment with them.  Truth be told, I've never done a live streaming video before but of course this Acrobat leaped at this awesome opportunity.  After all, it is thanks to them that I know that Rose is out and beer cocktails are in (phew…).  Dara and I had one conversation to brainstorm what this nutrition segment would look like.  We decided we would get to the bottom of some #trending nutrition myths once and for all:
If you want to lose weight, cut out ALL processed foods.
Cold pressed juice is the best way to detox.
Soy acts like estrogen in the body which can cause breast cancer.
Eating 6 meals a day is better than eating 3 meals.
Dairy foods are essential for bone health.
Gluten free desserts are healthier than regular desserts.
If bread is "100% whole-wheat" it's a go.
Here is the video below- just click the pic.  Let me know what you think!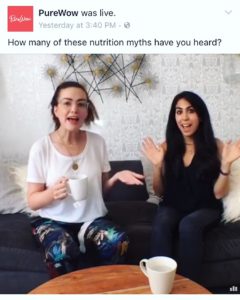 And here's a screen shot from the Snap Chat edition of the segment!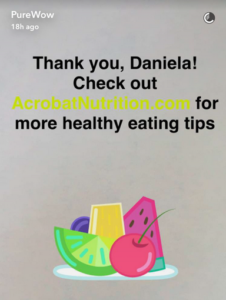 No, no PureWow– thank you- for letting me know that purple is the new black and breakfast pastas are "a thing" (perhaps next recipe post?).

Stay balanced,

The Acrobat


Warning: Parameter 2 to WC_Catalog_Restrictions_Query::posts_where() expected to be a reference, value given in /home/acroba6/public_html/wp-includes/class-wp-hook.php on line 298