Why I Call Myself the Acrobat Nutritionist and Why I've Been an Acrobat All Along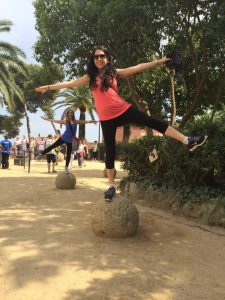 That's me- balancing in Barcelona.  This picture was taken in June 2014, before anyone ever called me an acrobat.  But I still looked like one, right?  That's because I always was…
To give you some background…  I was raised in a Jewish-Iranian home where our average meal was steamed basmati rice with Khoreshteh Gheymeh, a yellow lentil stew with tomatoes (often from our garden), saffron, cinnamon and dried limes.  French fries were a treat, which my mom made by cutting potatoes into wedges and frying in oil.  The fact that our fries did not come out of a freezer bag puzzled my elementary classmates.  I was once asked "your mom makes French fries from a REAL POTATO?"  Truth is, I did not know of another way.  Evidently, in our home, we spoke about real food- fruits, vegetables, meat, fish, dairy, grains, nuts and seeds- the whole foods that now star in my "balancing act," or diet.  Words like "calories" or "fat" were never part of the conversation and there was never a direct discussion about a food being "healthy" or not.  It was not until much later that I understood the impact that food, or overall diets, have on our health— and that my family had the right idea all along.
Twenty years later, after 4 years of studying nutrition science, over 5 years of clinical work experience and private counseling, and over 1,000 Friday night Shabbat dinners (consisting of meals similar to what was described as above), I call myself the Acrobat Nutritionist. I balance the tools I learned in my childhood home, kitchen, and classroom to guide others in finding their personal balancing act, or healthy diet.
As The Acrobat Nutritionist, I am writing this blog to share recipes, tips, and tricks that I've gathered as a practicing Registered Dietitian, home cook, and the product of the childhood described above.  I am excited to share this journey with you and hope you join me to #FindYourBalance.
Stay balanced and keep in touch,
Daniela,
daniela@acrobatnutrition.com