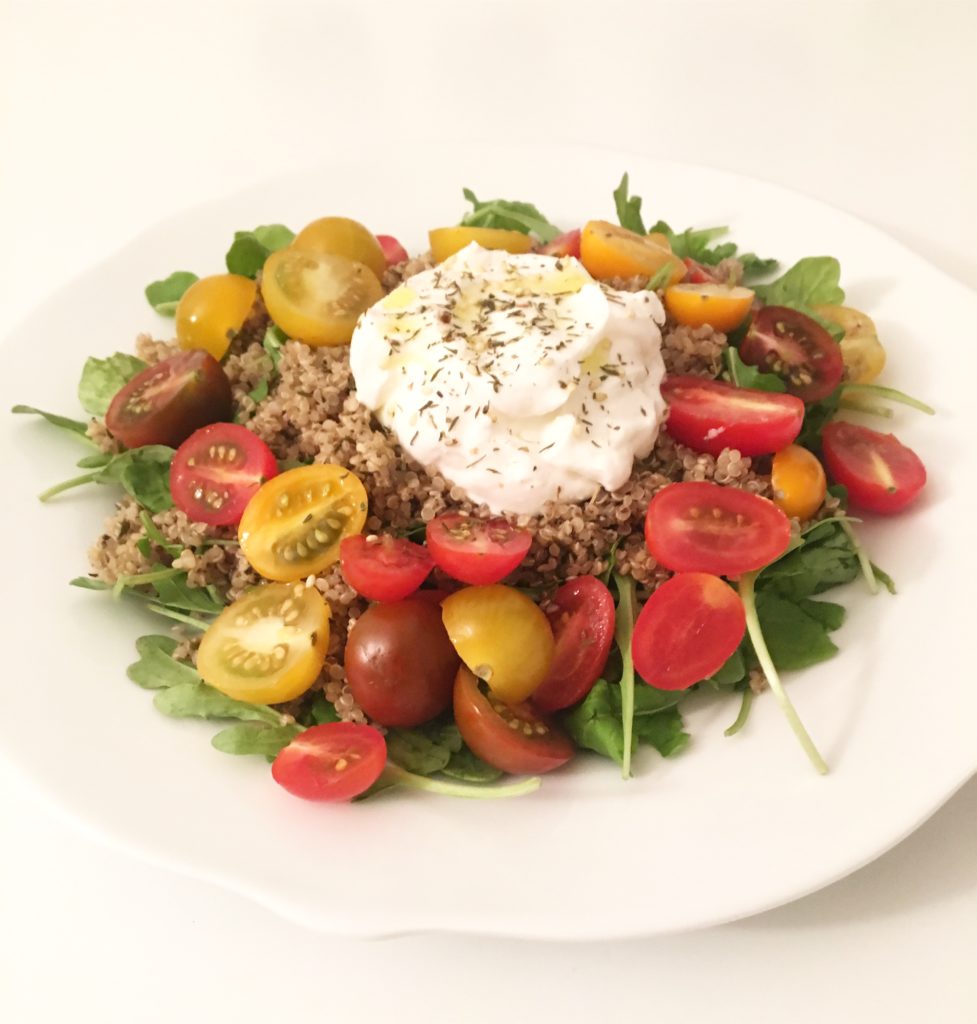 Turmeric on Your Big Mac Won't Do: Za'atar Quinoa Plate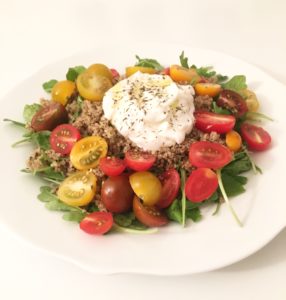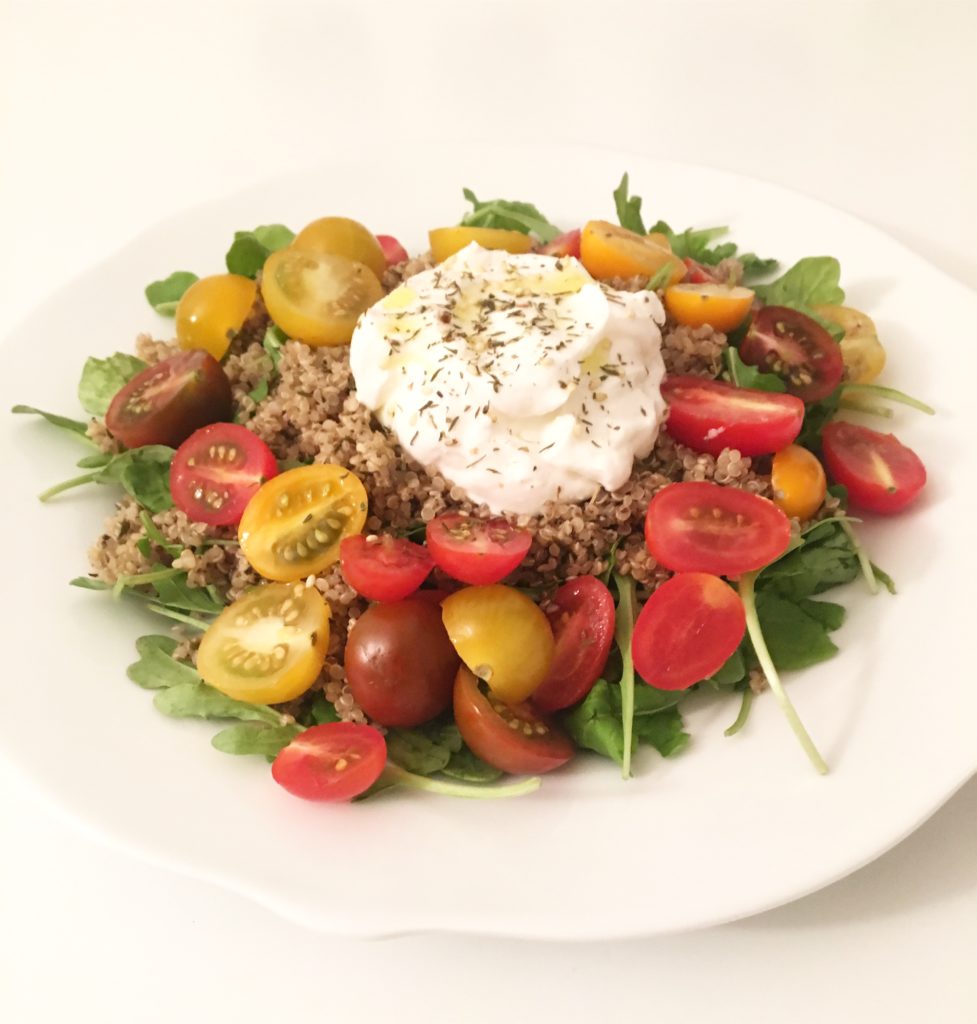 A visit from my cousin Alan from Los Angeles has always meant three things: 1- good laughs, 2- enduring some form of torture (i.e., sharing a video of me sleeping with my mouth wide open on social media) and 3- discovering new #eeeeeats.
During our most recent excursion, we conquered Brooklyn's Redhook Winery and later stumbled upon Williamsburg's Oregano.  My strategy for getting acclimated to any pizzeria is by ordering the quintessential Margherita pie and one of another variety—usually fancier than the Margherita, but never as good.  This time the underdog, the signature Oregano Pie, was the winner.  This pizza started with a basic crust, topped with olive oil, Za'atar spice blend (oregano + thyme + marjoram + sesame seeds), tomato, arugula and Labne (a Lebanese cream cheese I ate by the spoonful growing up).
Registered Dietitians are huge proponents of herbs and spices, which is why a dish featuring za'atar is THAT exciting.  In fact, I think McCormick owes us a check for endorsements- "for a heart healthy swap use salt-free grill seasoning instead of table salt."   As an RD, I promote herbs and spices (basics like basil, oregano, garlic and more exotic varieties like turmeric and za'atar) because they are flavorful AND functional.  The antioxidant properties of herbs and spices may have protective health benefits and even using a small amount (1/8th of a teaspoon) regularly may be beneficial.  This is in conjunction with an overall healthy diet of course, or by swapping herbs and spices for less desirable nutrients (like salt and excess fat).   Unfortunately, sprinkling turmeric on a Big Mac will not do the trick.
My balancing act (AKA, healthy diet) stars herbs and spices and while pizza makes an appearance too, it is certainly a treat.  That is why I recreated this pizza in my acrobatic way…  I adapted the essentials of the Oregano pie, the Za'atar, olive oil and the creamy goodness of the Labne (replaced by Greek Yogurt) and balanced them with whole grain quinoa…
The Za'atar Quinoa Plate
Total Time: 30 minutes
Yield: 4 serving
Ingredients:
1 cup quinoa, rinsed
2 cups water
3 tablespoons Za'atar spice blend
½ tablespoon olive oil
4 cups arugula (triple washed for ease, otherwise rinse and spin dry)
2 cups grape tomatoes or mini heirloom tomatoes, cut in half
2 cups 2% or 0% plain Greek Yogurt
1 lemon, cut into wedges
Optional: more olive oil for drizzling
Directions:
Make the quinoa: in a medium saucepan, bring water to a boil; add quinoa, za'atar and olive oil, reduce heat to a simmer; cover and cook for 15 minutes or until all liquid is absorbed. Remove from heat and let stand for 5 minutes.  Fluff and taste the quinoa before serving- if salt is desired add a pinch and mix with fork at this point.
Arrange the plates: for each plate, start with 1 cup of arugula, layer on ½ to ¾ cup quinoa (pending hunger), arrange tomatoes on outer edges of the arugula and top with ½ cup of yogurt.
Squeeze lemon wedge over the creation, and drizzle with olive oil if desired.

Warning: Parameter 2 to WC_Catalog_Restrictions_Query::posts_where() expected to be a reference, value given in /home/acroba6/public_html/wp-includes/class-wp-hook.php on line 298