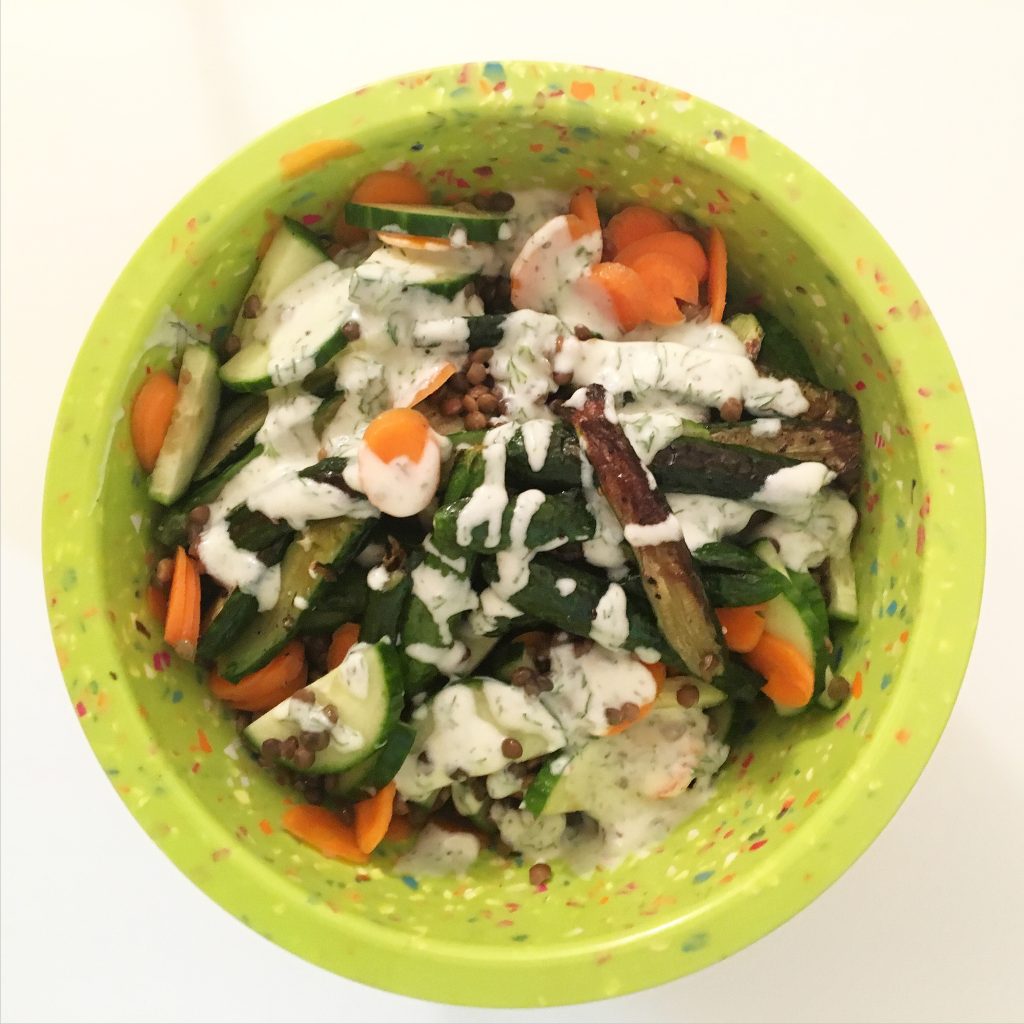 On the Pulse(s): Lentil Bowl with Yogurt Dill Dressing
My earliest food memories of "Pulses"- AKA legumes found in pods such as lentils, beans, peas and chickpeas- are from the Sundays of my childhood.  In our house, Sunday was synonymous with Hebrew School and Adasi, an Iranian lentil soup my mom made from simmering lentils and water.  While the base was simple, we would mix in some goodies table-side- butter, salt, fried onions (I smelled delightful on Sundays) and small pieces of toasted pita bread.  Needless to say, this soup bowl was the highlight of my weekend, especially before heading to the dreaded Hebrew school.
While my Hebrew School days are over I still enjoy Adasi with some Acrobatic touches- like nixing the bread while still adding butter- my diet is a balancing act after all.  I also have come to value the staple of this dish, the lentil, along with pulses in general. And when I heard the United Nations declared 2016 to be the Year of the Pulses, all I could think was "this is the year of Adasi".  From a nutritional standpoint, we can talk about how these pulses are naturally low in fat and high in fiber, a good source of protein and complex carbs (energizing, in my book).  We can talk about how they have been shown to lower heart disease risk, improve blood sugar control and lower cancer risk—obviously these benefits come with overall healthy diet and lifestyle.  But to keep it simple, as I think that resonates best with most of us, I like to think that plants are healthy.  Most of us need to eat more plants and I am sharing this recipe today for that reason— oh and to be "on the pulse"- pun intended…
Lentil Bowl with Yogurt Dill Dressing
Total Time: 30 minutes
Yield: 4-6 serving
Ingredients:
For the Yogurt Dill Dressing:
⅓ cup plain low fat yogurt (You can use Greek yogurt, but the end product will be much thicker— so you will need more lemon juice and olive oil to thin it out)
3 tablespoons fresh lemon juice
2 tablespoons olive oil
2 tablespoons chopped dill
¼ teaspoon black pepper; salt to taste
¼ teaspoon garlic powder
For the Lentil Bowl:
12 oz baby zucchini, sliced down the middle (or one large zucchini)
1 tablespoon olive oil
¼ teaspoon salt
¼ teaspoon pepper
1lb bag of packaged steamed lentils (or 2 ½ cups cooked lentils, using package directions)
1 hot house cucumber, cut in half and then sliced into ¼ inch thick pieces
1 cup baby carrots, thinly sliced
Directions:
Preheat oven to 400 degrees Fahrenheit
Make the dressing: Whisk together all dressing ingredients until well combined
Roast the zucchini: Place the zucchini on a baking sheet; add salt, pepper and olive oil and toss with hands until well coated.  Roast in the oven for 15 minutes, until browned.
While zucchini is in the oven, prepare the lentil bowl: Mix lentils, cucumbers and carrots in a large bowl.
Top the lentil mixture with roasted zucchini and drizzle on the Yogurt Dill Dressing. Enjoy!